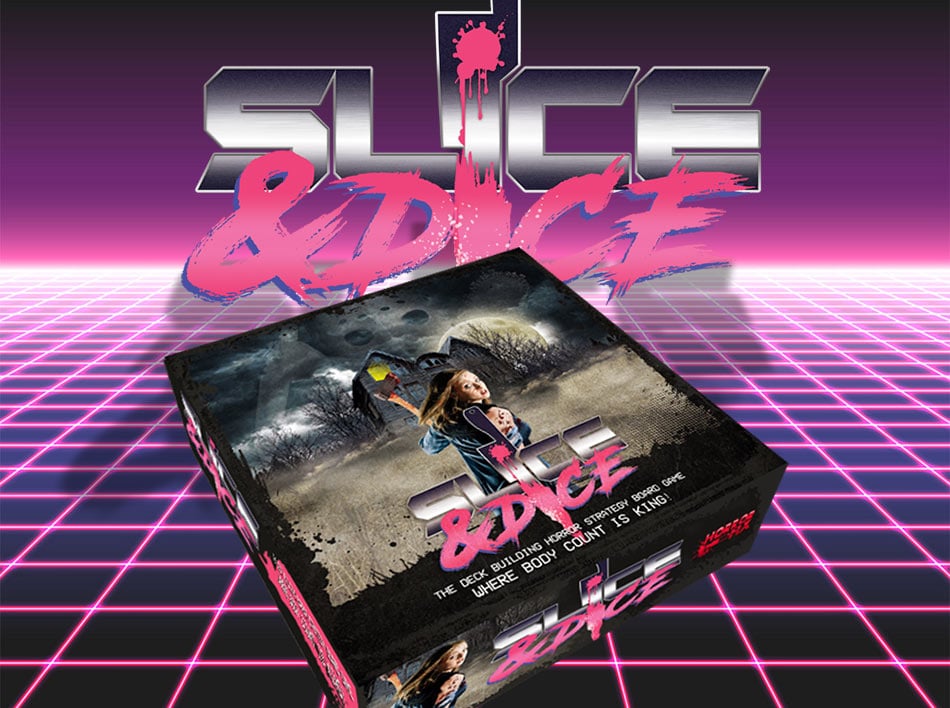 " There are a lot of dark fantasy games on the market that for the most part are really pretty similar; games that have an incredibly steep learning curve and fail to really embrace the horror aspect of gameplay… For horror movie fans there is a dynamic that most games fail to meet. We were looking for an experience that mimics the thrill of being in a horror movie while simultaneously rewarding fans that have the kind of knowledge to survive the simulation", stated Slice & Dice creator and Horror-Fix Owner Ash Hamilton.

The game, which features 5 playable characters, allows players to assume the role of hero or villain in a fight to the death as you investigate the board looking for victims/survivors. These traumatized souls fight back though, so you better have your game face on. Aiding you in your heroic quest/killing spree are a toolshed full of weapons and character specific attributes that can put you ahead of your competitors when it matters!

As we all know, horror movies are full of twists and turns and Slice & Dice's Plot Twist cards are just the thing to trip up that camp counselor that's running just a little too fast for our liking. From chainsaws to airborne viruses the Toolshed and Plot Twist Cards give Slice & Dice the true horror movie experience.

"As horror fans, my friends and I are big "what if " enthusiasts. We would often sit around and ask the bigger questions in life like, "what if Charles Lee Ray was able to possess the body of Jason Voorhees"? Slice & Dice is our attempt to answer some of those questions," Hamilton continues.
For fans who think their movie knowledge is the ultimate advantage, trivia questions have been implemented into several aspects of game play, raising the stakes for those who think they have what it takes.

The crowdfunding campaign is also accompanied by the film of the same title (Slice & Dice) directed by Thomas Haley and staring genre icons Maria Olsen, Jessica Cameron, Brooklyn Haley and othes. The Slice & Dice short film is currently screening at film festivals across the country.

The IndieGogo campaign will not only aid in production costs to physically print and distribute the game but will also afford the creators the opportunity to secure licenses for official movie expansions and add-ons.