There is a lot to like with Summer of 84. The film, which focuses on a group of persistently horny pre-teens as they investigate the possibility of their next door neighbor being a serial killer, takes place, well, like the title says, in the summer of 84. The characters are familiar here, and the ability of the filmmaker to keep the movie's retro tone should be applauded.
The plot, which isn't all together a novel one, keeps it simple for all the best reasons. Davey (Graham Verchere) is a smart kid. The kind of kid that leads his group sometimes without even knowing it. He has an intuition well beyond his years that his peers probably find a little difficult to understand. With a unique intelligence and an interest in the macabre, Davey might even be an outsider out of necessity, seeing well beyond the trimmed edges of the suburban lawns and shrub lines of his neighbors and into a darker reality of secrets and murder that even the most "safest" of neighborhoods harbor. It is this "vision" that starts a dangerous path where the line between adolescent fantasy and the disturbing truth behind the facade of middle class America and its darkest desires meet and eventually clash.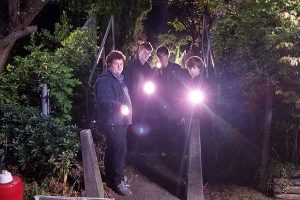 Summer of '84 actually showcases some real solid filmmaking. The characters here represent stereotypes that were present in most of childhood groups of this age. We have Davey, we have Curtis, the group brains, Tommy, the good lookin kid from the wrong side of the tracks, and dale, the chubby comic relief. In fact, where Summer excels is in its characters; bringing us a gang of kids that so easily bring us back to our own childhood. We feel for these kids, we empathize with them and ultimately we fear for them when its obvious their lives are on the line.
If Summer has one flaw it is more in its timing that in its actual execution. With films like "It" so fresh in moviegoers memories, Summer comes across, at times, as a watered down version of those movies that it seeks to pay homage to. The comradery is of course reminiscent of its 80s counterparts like The Goonies, but unfortunately the comparison is what might leave some audiences looking for a little more and with Summer grounded its own reality as it is, it, unfortunately, might disappoint a few people. It plays like an 80s movie if that movie were based off of real events and for those looking for typical 80s fare, it might play things a little too safe.
My one criticism actually falls directly along those lines. With a commitment to telling a story both plausible and possible, Summer of 84 misses some opportunities that could have played the film more towards a cult hit with a wider audience. With its characters, its solid story and good dose of humor, for as good as Summer is, it could have been great. RECOMMENDED.
Recommend

0

recommendations
Published in Featured, Movie Reviews, Reviews