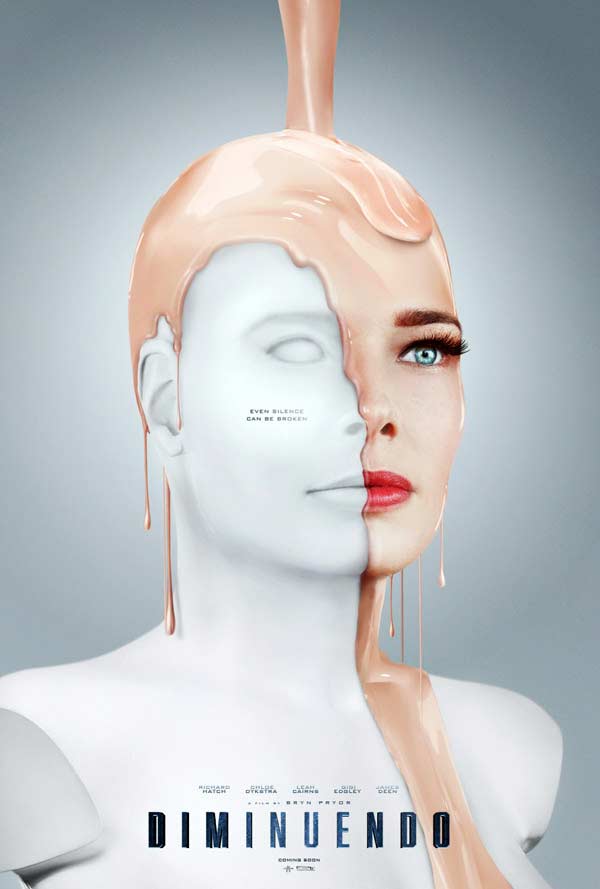 WHO: DIMINUENDO was directed by Adrian Stewart (Ghost Adventures; Marco Polo) and produced and written by Sarah Goldberger (COWBOYS AND ENGINES). It is the final feature film of sci-fi acting legend Richard Hatch(Battlestar Galactica; INALIENABLE) that also stars Chloe Dykstra (SPIDER MAN 2; DRAG ME TO HELL), Leah Cairins (INSTERSTELLAR; 88 MINUTES), Gigi Edgley (Farscape, Rescue: Special Ops), and Walter Koenig(Star Trek, STAR TREK II: THE WRATH OF KHAN).
WHAT: The west coast premiere of Richard Hatch's final feature-length film DIMINUENDO. In it, he plays Haskell Edwards, a once-prominent film director who now struggles with addiction and unemployment after the suicide of his lover and prominent muse, Cello Shea (Dykstra). When Edwards is approached by a tech company to direct a film about Shea's career using their robot replicant to play Cello, Edwards is given the opportunity to reignite his career and livelihood. However, the project forces him to confront a traumatic past with a lookalike "LifeDoll" that does not think, reason, or understand. In this harrowing drama with sci-fi elements, Hatch triumphantly plays a man trying to turn his life around when there is nothing left but regrets.
Following the screening, a Q&A will take place with the cast and crew. Tickets are available here.
WHEN: Friday, June 8th, 2018 at 7:00pm
WHERE: TCL Chinese Theatre 6925 Hollywood Blvd, Hollywood, CA 90028
Genre: Sci Fi; Running Time: 1:49; Rating: Unknown; Language: English
Diminuendo Trailer from Unpunished Films on Vimeo.
Recommend

0

recommendations
Published in Movie News, Movies, News