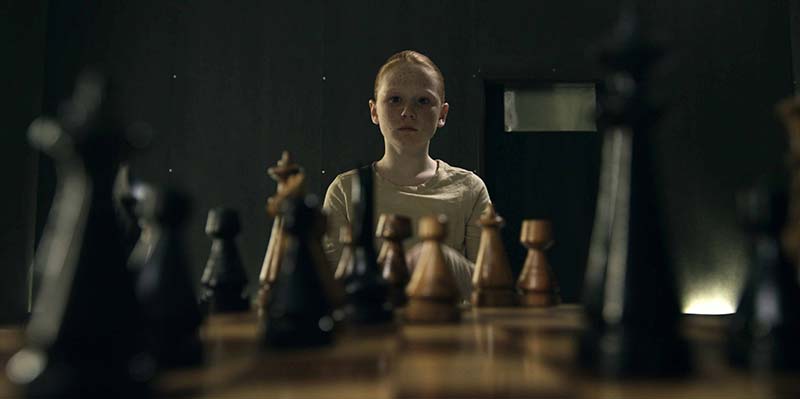 Directors Alex Haughey and Brian Vidal's 2017 effort 'Prodigy' does something that too many horror films are regrettably forgetting to do: provide an intriguing story that chooses to abandon the trappings of "hapless young idiots getting their comeuppance" and give us multidimensional characters and smart writing.
Richard Neil plays Jimmy, a psychologist answering the call of an old friend, Olivia, to analyze a young girl that, one reason or another, the US government has taken a keen interest. The girl, strapped to a chair under observance by the rest of Olivia's (Jolene Andersen) crew proves herself to be a cunning sociopath from the offset of the analysis, pulling out all the stops to unnerve her interviewer. Jimmy soon finds out that his profile could possibly be the last as the girls murderous behavior has prompted her captors to execute her, fearing he capabilities far exceed anything they've prepared for.
From the first frames Prodigy promises to give its audience enough mystery to hook them through the first 40 minutes and it is these first 40 minutes where the film proves itself over and over again from its characters to its pacing. While other films settle quickly on black and white to reinforce its themes, Prodigy swims in the grey areas that keep the viewer guessing. In fact, it adeptly navigates through its themes of moral ambiguity with such agility that the character interaction alone is enough to carry the film. What we get is a story that is as much carried by its characters as it is the vehicle that propels those characters forward.
Prodigy, despite its limited locations feels bigger than its budget and that isn't a slight. Its cast, again, projects an assuredness that reflects its writing. Carrying the brunt of the acting weight opposite lead Neil is child-actor Savannah Liles. Liles displays both a reluctant vulnerability and a icy indifference that speaks volumes about the future of her career. Both Neil and Liles' performances treat us to a wonderful game of thespian chess that mirrors the game that features as a centerpiece in the film. That is not to downplay the talents of the actors rounding out the rest of the ensemble. Both Andersen and Emilio Palame have solid moments that compliment those moments that play scenery to the main action.
Ultimately, Prodigy is a film about evil, the kind that we recognize and the kind that we internalize. Its a parable wrapped in a sci-fi thriller candy shell, and that's not a bad thing at all.
Recommend

0

recommendations
Published in Movie Reviews, Reviews