December 9, 2012 in Ash Hamilton, DVD/Bluray, Movie Reviews, Movies, Video/TV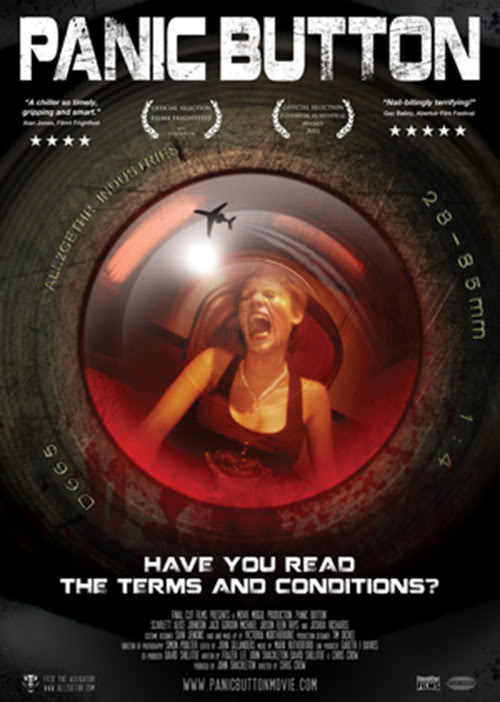 Panic button is a great representation of how a small movie with an even smaller cast can come across as a film with a much bigger scope than its means. It also represents a very real threat to us here in the digital age and that means a very real, palpable horror as well. Panic button centers on four characters, each from different walks of life, who find themselves the winners of a social network site's contest that puts them on a private jet headed straight to the big apple for an all expense paid vacation of fun in the US. Right away, our all British cast almost gurantees a well rounded crew of capable actors (Not to digress here, but how many British productions do you see that have less than adequate acting chops among their central thespians? Scones and acting… those Brits bring their A-game). After brief introductions in the airport, our winners board their ride and are almost immediately treated to a game of " who's the biggest scumbag" MC'd by an on-board computer representing All2Gethr, the social network site that is soon to become the film's antagonist. It is here that the real horror of Panic Button shows its pearly whites. Horror is more than the killer in the closet, the monster under the bed or the maniac with a master plan to prove his demented philosophies to his victims. Horror is around us, laying in wait, packaged as a nice slick service that connects us to our friends all the while nearing closer to our jugular with a serrated blade. Panic Button might leave a lot of horror fans thinking that the film is a little message heavy, but its point is poignant and topical enough that it doesn't feel forced. It reminds us that we are too quick to give up our freedoms and our privacies in a virtual word that is just as risky as the corporeal one. Our characters find this out quickly as their private lives and their misadventures are forced into view in front of them and their peers as the sadistic game unfolds. We soon learn that each character has their own secrets and as each are seperated from the group, they are given ultimatums from their host that could mean a grisly end for their friends and loved ones should they not meet its demands. I am a sucker for character studies, movies that move along by reaching into the past and allowing us to follow the backstories of its characters. Panic Buton is adept in doing this, withut using the conventinal means of flashbacks and grainy black and white footage. It manages to do so inface while propelling the present timeline forward and in doing so pushes it running time forward at a break-neck speed. If PB has any fault it is that it is almost too successful in exploring the depravity of its characters, leaving us looking for a hero, but luckily still engaged enough to let it slip by. These are characters that even when we are appaled by them, we realize that it s the human condition that it is their afliction and we must concede to our own introspection, allowing us to forgive them just enough to wish for their redemption. I could not help but to be reminded of the first Saw as I watched Panic Button. It has a tone and intent that mirrors the franchise starter and leads me to believe that this was only the first button to be pushed and that with a solid DTV audience, we can hope to see a little more panic in the future.

Panic Button is available on DVD and Bluray. Check your local retail store for pricing and availability.