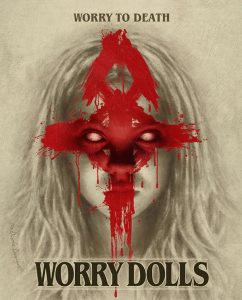 KYM JACKSON is starring in Padraig Reynold's horror thriller WORRY DOLLS (releasing theatrically this June 20th by Studio Canal). As an interviewee Kym is very smart, candid and has some great behind-the-scenes stories of the WORRY DOLLS shoot in Louisiana. Jackson plays the charistmatic and hard nosed detective Darcy, partner to tormented cop Matt (Jericho's Christopher Wiehl). 
Here's the official schpiel: 
In the aftermath of the hunt for notorious serial killer, Henry Leonard Bale, a peaceful town erupts in a chain of random, brutal murders.  What detective Matt Williams discovers is as unbelievable as it is undeniable… The killings all stem from an ancient set of Worry Dolls gifted to the serial killer when he was a boy.  Now, with his young daughter's life hanging in the balance, Matt and Darcy are pitted against the clock to find the dolls and break their curse to save the people they love.
Buzz for the film so far: "A well-crafted terror tale",  "a murderous cinematic trip through the backwoods of Mississippi" (Nerdly).
Kym Jackson is a gorgeous Aussie character actress with a string of projects releasing across the screen right now, including a recurring role on Netflix's Real Rob (with Rob Schneider) and Cardboard Boxer (Terrence Howard, Thomas Haden Church), The Half Dead (John Rhys Davies, Tasma Walton). She also just attached to A&E pilot The Infamous, produced by Peter Feldman (True Detective, Hung).  Revealing a gritty insight into the birth of the R&B scene, Kym is at the heart of the show playing Nessa Shapiro, key A&R executive at Capital Records in the dangerous evolving scene. 
Related articles
Recommend

0

recommendations
Published in Movie News, Movies, News