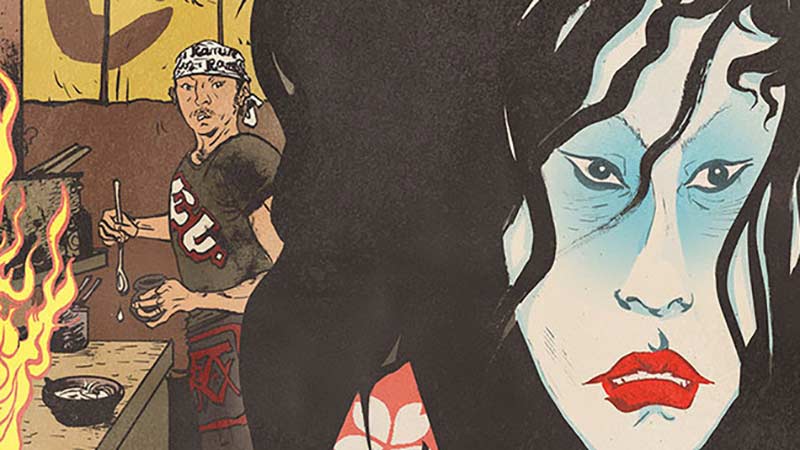 So this one sorta hit us outta left field.  I am a self admitted foodie. I love food. I love finding restaurants that are known for their interesting and sometimes bizare cuisine. As a matter of consequence then I often find myself watching the Food Network and The Travel Channel. I like Anthony Bourdain. Out of most of the celebrities that come and go on a number of shows that do the same, he has always seemed the most legitimate to me. Funny then that we should find out that Bourdain is also a horror fan, in fact, enough of one that he hactually has two comic series under his belt. From the March 16th article on Eater:
"The spookier corners of Japanese folklore serve as the inspiration for Hungry Ghosts, a four-part comic book series from TV star/author Anthony Bourdain and novelist Joel Rose. This is the same duo that created the epic graphic novel Get Jiro! about master chefs who rule as crime bosses in a not-too-distant future where people literally kill to get tables at the best restaurants. If you enjoyed the kitchen nightmares of Get Jiro!, then Hungry Ghosts might be right up your alley. Here's a rundown of what to expect from this series.
Killer art
If you're a fan of stylized comic book violence (think Raw meets Lady Snowblood), then you're in for a treat. Joining Bourdain and Rose in issue one are artists Alberto Ponticelli (Unknown Soldier, Dial H) and Vanesa Del Rey (Bitch Planet, Redlands). Issue two features the work of Leonardo Manco (Hellblazer) and Mateus Santolouco (Teenage Mutant Ninja Turtles). These artists further amplify the horror element in each story with their wonderfully grotesque art. There's also the amazing color by José Villarrubia, whose saturated reds pop off the page. Raw flesh, both human and animal, never looked more nauseating.
And let's not forget Paul Pope's covers, one of which features an onryō hunched over a bowl of tonkotsu ramen while she stares deep into your soul. The style is very reminiscent of the 19th century ukiyo-e woodblock prints by rival artists Utagawa Kuniyoshi and Utagawa Kunisada. Surely, some readers will consider this issue a collectible worth framing.
The Bourdain twist
In addition to featuring awesome art, Hungry Ghosts is full of great stories. The main plotline revolves around a Russian oligarch who is hosting a party at his beach house on Long Island. As the night grows darker and stormier, he and his rich cronies get bored, so he invites the chefs working in his kitchen to play a version of 100 candles, an old game in which brave samurai would try to one-up each other with terrifying tales of ghosts, demons, and unspeakable beings. This take on the Japanese Edo-period game gets the Bourdain touch with chef-storytellers telling tales about food and hunger."
Read the full article here