Once again we are seeing the Found Footage genre rear it's questionable little head. What is that you say? We are in space now? So really this would not be counted with the other numerous attempts (I am looking right at your Paranormal Activity franchise)? Maybe you are right, this actually could rate below those as the too crowded FF genre.
The story sets up as decade old footage that has been found from NASA's abandoned Apollo 18 mission, which was a secret expedition and also the reason we never returned to the moon. I love movies that take something historical where the government played hush hush and build on the fact that this could very possibly have happened. So let's take a look and see if Apollo 18 had enough fuel to keep me interested.
So we start out viewing videos of the men involved in the mission that ahem never took place. The lens used was old and you can also tell that care was taken to keep everything in period with the 1970's as the footage claims to be. You can tell right away that we are expected to care about the cast as the earlier parts show family, children and other things that we as viewers can relate to. The acting was as you would expect, but nothing needs to blow you away when something is to be found footage anyway.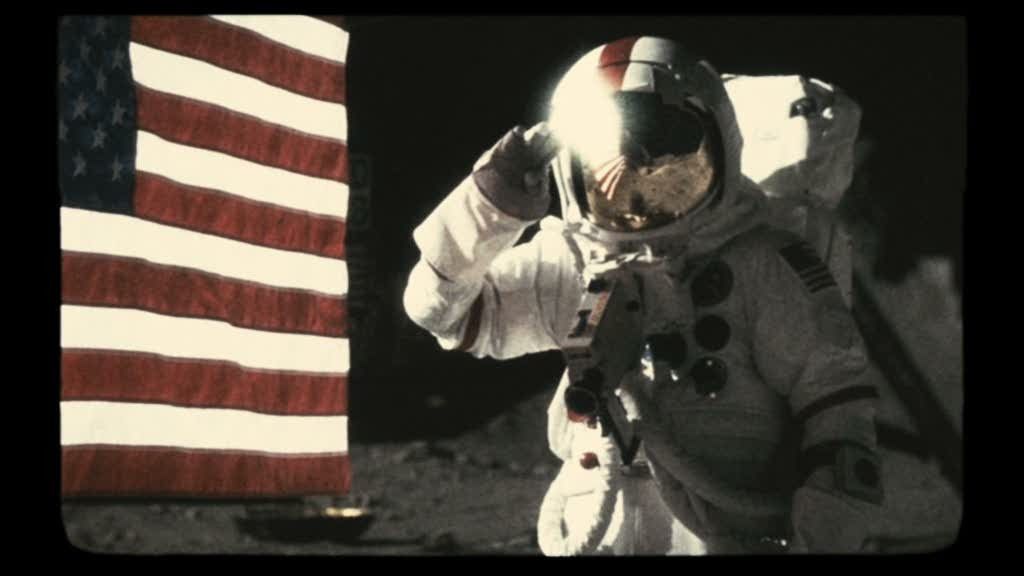 You will be treated to two types of video here, 16 mm cameras which are used by the two astronauts to document themselves, and the remote camera which are fed back to the base station or home. I totally get how we would have the remote feeds because they are piped back and also recorded, but the 16 mm film supposedly suffered the same fate as the crew. So how did we have that to edit in with the remote feeds? Do not expect an answer here as this was the first sign that I would be less than impressed with yet another Found Footage pile of shit.
By now the wife is drifting off into sleep on the couch after making some comment about my inability to pick a movie ever worth watching. Oh the joys of marriage, they never stop coming.
So I have shrugged off the glaring error of the tapes and how they got back to the USA. Let's move on to the bore...er, I mean horror that this film claims to be labeled as. If you came here looking for any real scares you may as well turn that midget porn back on because you are bound to gasp and groan a lot more there. This movie creeps along at the pace that a snail may even have to slap a fool! There were a few times when I got excited and thought we may be seeing some real scares but they ended up being random noises and little tricks of the camera. I honestly can say that I did not find a single scare in this flick.
I have always thought to be an astronaut you need to be smarter than the average guy. I mean these folks are representing us outside of our planet and could be the only line of communication or defense if something were to happen up there. On more than one occasion I found myself wondering what the hell these guys are doing! I could have made more beneficial decisions covered in coke while trying to explain the dead hookers to my wife, " Um yeah, really sorry honey must have been that 16 mm footage and crabs".
So who the hell thought crabs would make a super cool idea as the ultimate killers on the moon? I had bits of fleeting hope and kept praying we would see a head alien not of crab form. As for these being scary, um no, you would end up a lot more scared if your new found crabs were diagnosed versus being from Apollo 18. Oh, and they're CGI which looks pretty lame even on lens from the 70's, nice try though. The ending was a joke and fit the overall waste of a film. The last screen pissed me off enough to not spoil for the next sucker who makes it through this feature, if you want to call it that.
If you live and die for this Found Footage crap you may end up liking this film. For me, anytime you are playing with age old supposed government conspiracies please make sure things make sense, like how did we get that 16mm film. I guess if I were to tie this all together I would have to say this film ranks above getting crabs, as I hear that really sucks, but it ranks at the bottom of the Found Footage movies I have seen.
Radical 1970's hair and clothing.
Good sense of desolation.
How did we get the 16 mm footage?
A little horror never hurts in a sci-fi horror film.
Sufferers of crabs may become a little comfortable.