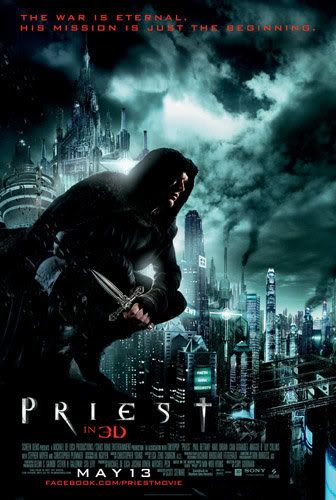 Do you remember when there were scary vampires? I mean don't get me wrong the amount of product in Robert Pattinson hair is very fear inducing to me personally. The fact that vampires have been neutered and covered in sparkles is something I personally hate. My favorite vampire is the Nosferatu-looking menacing kind. I like a vamp that induces fear and not weakness in the knees of the ladies. Luckily for me, Priest came along and gave me some ravenous vamps to look up to.
Priest is based on the graphic novel written by Min-Woo Hyung. The story is that of humanity's centuries old battle with the vampires. In this tale vampires are bloodthirsty, very fast, very strong beasts. The human race over the centuries has barely survived the fight and the only reason they have is that the sun harms the vamps. As time progresses the world is increasingly torn apart by the battle and is only saved when the church cultivates soldiers ordained by god himself. These soldiers are called priests and are just as fast and strong as the menace they face. The preists do a very good job of erradicating the threat, almost too good. When the last major hive is taken down the church moves the populace into gaurded walled city that are completely controled by them. The priests are decommissioned and forced to lead normal lives. This is where the movie actually begins.
This film picks up after things have been quiet for a relatively long time. The main character called Priest(Paul Bettany) is called back into service when his family is attacked by a roving pack of vamps. The church denies his request to reacctivate and he less than politely does it anyway. He teams with an ex-priest played by Maggie Q and the young boyfriend of his niece played by Cam Gigandet. As a treo they tear ass across the desert in search of answers and only find more questions. The questions do get answered by another ex priest(Karl Urban) who while no longer a priest definitely has a brand new bag.
Ok brass tacks time. This film gets alot right, I mean alot. The effects are dynamic, the scares are at the level they should be, the action is fast and brutal and the use of weaponry is very unique. The vamps excrete a great kinda goo that is everywhere and the familiars they use to do their bidding are nice and creepy.
Bettany does a good job of being a low key badass. This should come as no shock for those who have seen Legion. In the same way Urban does a good job being foreboding in a "man with no name" kinda way and the vampires really set a good tone for the film.
Priest is directed by Scott Charles Stewart who also directed Legion. I really like his edge in these two films. Mr Stewart is very straight forward and unflinching in his use of violence and blood, he tends to gives no quarter to men, women or children. This gives the viewer a feeling anyone can be next. The other thing i enjoyed about his direction was his use of light and dark. When the sun is out it is REALLY out. It feels like they are really in the desert it is set in.
The film does have some flaws. Im not completely sure they are flaws for the kinda film it is but more of a rehash. It felt as if I were maybe watching Mad Max at some points. This may be of course because anything post apocalyptic kinda reminds me of Mad Max. It feels of steam punk and dirt and im not sure if its bad but kinda stale. I do believe that maybe it suffers from other films doing it maybe slightly better first. I guess my major gripe would be that the dialogue feels stale and very "action movie" like. Lotsa very dire quotes and just splashes of off-hand comedy. This film coulda used a little bit of lightheartedness to cut the grim nature.
I would say though all in all it is a much better than average film. If you are going to this movie to see Citizen Cain 2 then you will be sadly mistaken. In that vein though if you are wanting to see a fresh take on what a vampire is and a good action movie then this is your film. As a action horror film id give it a 3 outta 5.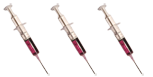 originally posted by contributor David Winterborne